OUR ECO, LO-CO2 + BIO PRODUCTS
Together we can make a difference!
Here at RT Machinery we have been at the cutting edge of new technologies and products that work within our environment sympathetically since we started in 2001.
Our LO-CO2, ECO and BIO badges are designed to guide you to those products that are delivering a much lower carbon footprint than traditional petrol and diesel machines.
Products display our LO-CO2 badge because:
They may use

hybrid technology

, combining fossil fuel with electricity, and combining powertrains and drives for the most efficient use
They may use

catalytic converters

, which change harmful substances in exhaust gasses into less harmful substances like carbon dioxide and water vapour
They may use LPG or LPG conversions that reduce CO2 and particle emissions
They may use

filtered particulate systems

and clean burn modern diesel engines to Tier V standards, managing and

minimising emissions

to the strict city and Congestion Zone levels
They may use electronic fuel injection (EFI), a system that delivers fuel to the engine in an effective manner, at high speed, helping it to run smoothly with

maximum fuel efficiency.
Products display our ECO badge because:
They have the

Ability

to do the job
They have

Ergonomic

benefits that make them more comfortable to use
They are at least

80% Recyclable

at end of life
They use a

Responsible Power Source

that means lower lifetime cost than fossil fuel and of course

Reduced or Zero-emmissions
Products display our BIO badge because:
They are able to run on a

bio-fuel

content which means fewer air pollutants (e.g. Biodiesel, Liquefied Petroleum Gas)
They are able to use

biodegradable

oils and lubricants within transmission and hydraulics systems
Component parts or fuel are manufactured to be totally

biodegradable

(e.g. Biodiesel, containers)
We understand the importance of looking after the environment.
As one of the largest independent Horticultural Machinery and Landscape Specialists in the UK it is imperative that we strive to minimise the impacts of our day to day operations.
OUR SUSTAINABILITY IMPACT
We understand our role in reducing our carbon footprint.
We all have a responsibility to play our part in reducing our carbon footprint and we take that responsibility very seriously. Since we opened our doors in 2001, we have made it our business to seek out new technologies and products that work within our environment sympathetically.
Today that focus spreads a long way further than the products we sell to every area of our business, from the recycling of waste wherever possible, to efficient use of resources and a genuine will to keep improving our contribution to the sustainability of our planet.
We know we can do more and will update this page as we make further improvements.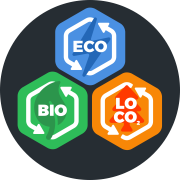 LO-CO2 PRODUCTS
Despite the advances made in developing machines using a Responsible Power Source in place of fossil fuels, there's still a long way to go to reach zero-carbon and emission-free machinery for the range of lawn care and ground care equipment required.
We do, therefore, educate our customers about the progressive and responsible technology available to us now, including products that use modern fuel management systems, clean-burn engines with filtration, cleaning and regeneration systems and hybrid technology.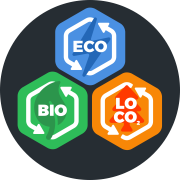 ECO PRODUCTS
Thankfully manufacturers have worked to build a range of machines that use a Responsible Power Source in place of fossil fuels. We have specially chosen those machines that have the ability to do the job they were designed for, that have Ergonomic benefits to make them more comfortable to use, and that is at least 80% recyclable at end-of-life.
We use every opportunity to educate our customers about these products to bring down the number of machines in use that run on fossil fuels.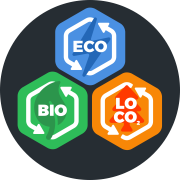 BIOFUEL PRODUCTS
There are a number of machines available that either run on BIOFuel or that use biodegradable oils and lubricants within transmission and hydraulics systems. Once again we educate our customers about these products where they can replace a machine using fossil fuel and where there is no ECO alternative.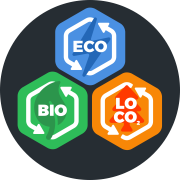 RECOMMENDING THE RIGHT MACHINE
If the right machine is selected for the task, it can be used extensively over years, maximising its life. For this reason we supply a wide range of machines from a wide range of manufacturers, so that we can recommend the right machine to a customer. We are completely independent with no ties to any one supplier and no incentives for promoting any one machine.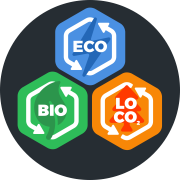 HIRE INSTEAD OF PURCHASE
Purchasing a machine that is not going to be used much is clearly a waste and means that any carbon released during manufacturing is unnecessary. We offer and promote a wide range of machines on hire so that customers don't have to make that purchase. We also offer a number of finance options with our hire to make it an easy option, including spot hire, contract hire and even hire-to-buy, allowing a customer time to properly evaluate a machine before purchasing.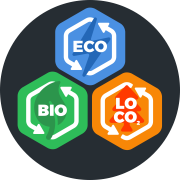 PART-EXCHANGE AND END-OF-LIFE CYCLABILITY
When a new machine is required, it often means an old machine is no longer required. We offer part exchange wherever possible and will then resell the old machine to maximise its usage before end-of-life. Once that point has been reached we will recycle everything that can be recycled from the machine.
We are able to offer a guaranteed take-back scheme for our own RTM-branded machines because they are 95% recyclable!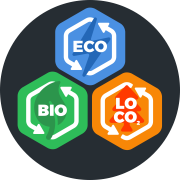 ERGONOMICS
If a machine is comfortable and nice to use, it's going to be picked up and used more frequently than a cumbersome or awkward machine. More use means better utilisation and value in investment.
Ergonomics in design can also reduce risks of injury or even contribute to better fuel economy and consumption of fuel or oils – a machine that's awkward to use may not be used correctly and therefore may consume more fuel.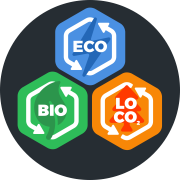 BATTERY RECYCLING CENTRE
The number of machines using batteries is growing and that means the number of worn batteries is growing too. We have a responsible and approved partner with whom we work to make sure that batteries from machines supplied by us are recycled responsibly. We are also happy to manage the recycling of batteries where the machine has not been supplied by us. This includes batteries from cars and vans in addition to those from lawn care and ground care machinery.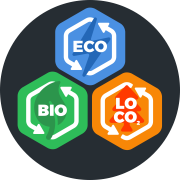 BIODEGRADABLE STRIMMER CORD
We believe that throwing nylon and plastics from waste strimmer cord into the environment and water table is irresponsible and should be avoided. More research and innovation is needed in this area.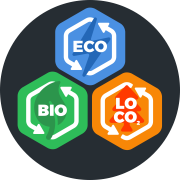 ARTIFICIAL GRASS
Synthetic surfaces have their place, but we encourage all installers and users to consider the bigger picture in relation to recyclability, manufacturing process and the loss of our natural and eco-friendly turf. Room for thought and consideration by all of us.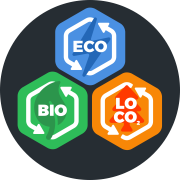 SUPPLIER RESPONSIBILITY
We believe it's important to work with those suppliers who are focused on improving the sustainability of their own operation, as well as that of the industry. We select suppliers who can offer the right machines to fit our ECO Product criteria, as well as machines that can genuinely do the job required and have a longer life cycle. These machines represent the best value both for the environment and for the pocket. We also review and engage with our suppliers to minimise packaging, request recyclable materials and where possible use of returnable stillages, crates and boxes.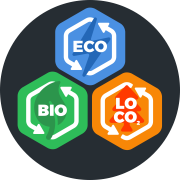 RESPONSIBLE RESOURCE MANAGEMENT
We are now measuring our use of utilities so that we have a benchmark to work at reducing. We are also taking the normal steps to minimise our footprint here, with turning off lights, computers and other devices when not in use.
We're also delighted to say that through Opus Energy, 100% of our electricity now comes from renewable energy sources: 48% from wind power, 24% from solar power, 16% from bioenergy and 12% from hydro. In fact for the year from April 2019 – March 2020, based on our consumption of 34,823 kWh, this represents a saving of 6.89 tonnes of CO2 compared to an industry average of 198g CO2 emissions per kWh. This is roughly the equivalent of 34,475 miles in a car or 7.66 flights from London to New York.
In addition, we have implemented a cloud based IT system that enables staff to access and work on documents from anywhere, improving efficiency and saving on paper. When we do use paper, we only buy FSC (Forest Stewardship Council) certified products.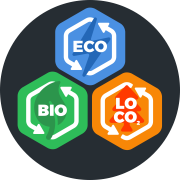 ENCOURAGING WILDLIFE
We appreciate the importance of wildlife in balancing the ecosystem around us and have placed a number of bird and bat boxes in the trees around us to encourage more of our feathered friends to nest. We also have a few log stacks to encourage insects, and Swallow, Owl and Sparrow access points to our barns and buildings.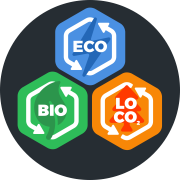 CARBON FOOTPRINT CERTIFICATION
As of summer 2023, our carbon footprint has been certified by Planet Mark for the second year. This sustainability certification is the result of rigorous, transparent measurement and it allows us to set measurable targets to reduce our carbon footprint.
Speak to our very knowledgeable Sales Team today!