History and Considerations
Since the early 1900s, cylinder mowing with simple land wheel-driven gang mowers has been the preferred system for generations of groundsmen, greenkeeper and park keeper. The low power requirement, simple configuration and ease of adjustment and maintenance make this traditional system a very effective method of cutting and recycling grass.
The professional models today are of two basic cutting widths and may use an 8" or 10" cylinder diameter. Generally, an 8" cylinder would be suitable for sport, fine lawn and parkland with a 10" diameter for more growth such as golf course semi-rough or country park and paddock.
Considerations to the suitability of cutting surfaces should be made as gang mowers are designed to work on good, level ground and even rolling surfaces. The overall unit weight is also important to maintain traction as the wheels need to remain in contact with the surface to drive the cutting cylinder.
Lightweight imported "Mini Gang" sets will be useless if you expect a consistent quality of cut – once you move forward and increase speed they start lifting and bouncing leaving uncut ribs on the surface. Unlike a quality professional unit such as the RTM Tow n Mow® Junior or the Dennis Guildfords – With each unit weighing 50kg on its own without the towing frame these gang mowers are more than adequate and produce a 1st class result – they are stout enough to hold tight to the surface and remain so even at max cutting speed.
RTM Tow n Mow® Junior Gang Mower
Overview
Part of the RT Machinery Ltd "Tow n Mow®" range of efficient, well designed, effective and robustly constructed trailed gang mowing units.
To complement the range, this low-cost but effective unit is ideal for paddocks and large area maintenance.
The cutting units are designed with optimum weight and performance in mind, to give an effective Cut with a convenient and cost-efficient pulling power requirement.
The height of cut is simple and quick to arrange, with "sight holes" available to maintain consistency over the three units.
To ensure a crisp and neat cut the bottom blade is equally quick and simple to adjust. Tight turns can be undertaken with the units, with no loss of cut area.
The units are designed to require minimal daily maintenance, with the remaining requirement being part of the annual service.
Demonstrations are always recommended.
RTM Tow n Mow® Sportster Gang Mower
Overview
Traditional systems are still the most cost-effective way of cutting larger open areas and to distribute the clippings, but machinery costs have escalated dramatically over the years. As a company with many years history in supplying, maintaining and servicing such products, we have invested time and resources in sourcing and manufacturing the RTM Tow n Mow® Sportster to bridge the gap and to make gang mowing systems affordable.
In fact, we can often supply new and remanufactured gang mowing units for less than original ones can be repaired or renovated.
The RTM Tow n Mow® Sportster is our very best gang mower for Outfield, Sports pitches, Parks and Estates. It delivers a premium finish and distributes grass clippings evenly and well spread. It is built to meet the standards of the traditional park or cricket field, as well as the standards of traditional mowing units of the past, all whilst keeping the design simple and easy to maintain, making it a very cost effective, efficient and reliable machine. Adjustable taper roller bearings all round and ease of adjustment and settings – a true professional machine.
A trailed, ground wheel driven, fine cut, easy tow cylinder mowing machine, the RTM Tow n Mow® Sportster comprises of one, three or five 30" (762mm) 6 blade mowing units and fully greaseable rollers with scraper bars. Multiple mowing units are closely linked together by an articulated trailed or tractor linkage carrying frame to allow turning and undulating contours to be followed. Facility to tow one behind the other for ease of transport.
It is supplied complete and ready to work with a few set-up adjustments and fixings.
In keeping with our goal of seeking out products that work within our environment sympathetically, we're delighted to say that this gang mower can be pulled by both the Cushman Pro Hauler and Etesia Bahia VTE electric UTVs, with the RTM Hitch modification kit.  Take a look at the videos – Eco mowing at its best!
We offer a full service to the trade and end-user alike. New machines, service exchange units, used machines, hire, contract hire or outright purchase. We will do all we can to tailor our products and services to both your budget and needs. Part exchange can normally be offered on your old units.
The RTM Remanufactured Gang Mower
Ransomes Trailed Gang Mower
Ransomes TR320 Triple Gang Mower
Overview
The Ransomes TR320 Triple Mower is our finest triple and suitable for a multitude of uses and client applications across the industry. The TR320 comes with a heritage of refined triple mowing and has evolved from the original TR3 series to be our most universal and value for money triple mower. Designed by the factory design team to optimise the multi-platform power unit it is innovative yet reassuringly traditional in its build.
The powerful Kubota diesel engine sits transversely in the chassis allowing for ample power transfer yet additionally achieving the perfect point of weighing distribution and traction. This clever design also allows the hydraulic tank to be mounted at the rear of the unit adding to the weight distribution, traction and importantly the gazelle-like bank working and approach industry leading angles. Traction is further enhanced with the standard fitment of a rear wheel drive system and an optional weight transfer kit.
The winning combination of superior slope capabilities and manoeuvrability makes the TR320 the only choice when it comes to negotiating tight spaces and challenging terrain while delivering a pristine mowing performance.
With a choice of 5 or 7-bladed cylinders, floating or fixed head Ransomes British-built cutting units it is very versatile and suitable for use in fine turf sport, ornamental or amenity applications.
The three cutting units are hydraulically driven with outboard motor drive and can be configured in either a full lift with vertical fold up of the front units or very cleverly lift horizontally only allowing the motors to be tucked inside the units for a close cut to borders, hedges and fence lines.
Factory fit options that can be configured in build to suit a range of applications from cricket, football, rugby, verge, park or estate include on board hydraulic back lapping, weight transfer, mow mode control, front and rear roller scraper kits, led amber beacon, road registration and lighting kits.
Cutting Cylinders + Adjusters
Key No

OEM Part No

Description

1

–

Cutting Cylinder 4 Blade MK10, MK11 8″Ø

1

–

Cutting Cylinder 5 Blade MK10, MK11 8″Ø

1

MBC8868

Cutting Cylinder 6 Blade MK10, MK11 8″Ø Sportscutter

1

MBE3453

Cutting Cylinder 8 Blade MK10, MK11 8″Ø

–

MBC9973

Cutting Cylinder 5 Blade MK12, MK13 10″Ø Magna

–

–

Cutting Cylinder 6 Blade MK12, MK13 10″Ø

2

MBA7024A

Bottom Blade

3

A119000

Bottom Blade Screw

3

–

Bottom Blade Screw Over Size

4

LTC0655

Dust Cover

5

H013316

Oil Seal (Dowty type MK 10/12)

5

H011097

Oil Seal New Type for GA203604 Bearing (MK 11/13)

6

MBB2239

Distance Washer

7

A203604

Bearing, Cutting Cylinder (MK 11/13)

7

H001252

Bearing, Cutting Cylinder (2204) (MK 10/12)

8

F2002CD

Set Screw

9

A151008

Spring Washer

10

LTC4881

Distance Piece

11

LTC0009

Key

12

F1030GK

Split Pin

13

LTC4663

Nut, Castle Type

14

A139910

Lock Nut

15

F2150E

Washer

16

MBB2206

Adjuster Sleeve MK11/13

16A

LTC4617

Adjuster Sleeve MK10/12

17

LTC4618

Adjuster Tube All Models

18

MBB2212

Eye Bolt Adjuster Screw Long (MK 11/13)

18A

LTC4568

Eye Bolt Adjuster Screw Short (MK 10/12)

19

LTC0629

Bush

20

H083025

Spring Washer (disc)

21

MBB2202

Pivot Bolt

22

MBA5402

Screw

23

.F2051AA

Lock Nut

24

LTC0635A

Wood Fillet (as original)

25

LTC0451

Roll Pin

26

A203605

Bearing

27

LTC4860

Cork Gasket

28

LTC4806

Distance Piece

29

F3354CD
A189501

Copper Rivet

30

LTC1313

Oil Seal, Leather

31

LTC0616

Gasket, Cork

32

F2013CJ

Philips Head Screw

33

LTC4894

Felt Gasket

34

F2002AB

Screw

35

F2013CJ

Phillips Head Screw

36

A130006

Nut

37

MBB2208A

Clutch Rod

38

A221012

O Ring

39

F2051AA

Nut

40

F2164G

Spring Washer

41

MBA4479

Level Plug

42

F3551EJ

Fibre Washer

43

H980409

Clutch Spring

44

LTC0417

Pawl

45

LTC0418

Rivet

46

F2051AG

Lock Nut

47

F2163N

Spring Washer

48

LTC4546A

Main Gear

49

GSF3002PN

Intermediate Gear Bush
Rollers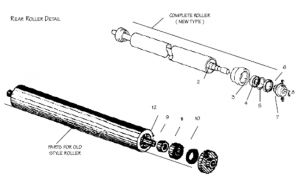 Key No

OEM Part No

Description

1

LMSD614B

Rear Roller Assembly, Superior Quality Completely Repairable
as Illustrated, Weighs 20kgs.

1

–

Budget Roller (not illustrated)

2

MBB9262

Shaft for Rear Roller (above LMSD614B)

3

A203604

Bearing, Roller

4

A170047

Circlip

5

H012003

Oil Seal

6

MBB9264

Roller End Boss

7

GSF254OAC

Grease nipple

8

A221210

O Ring

9

H011090

Roller oil seal – light roll

10

H013316

Roller oil seal – light roll

10

H015012

Roller oil seal

11

H001543

Bearing – light roll

11

H001771

Bearing

–

LS02521H

End cap screws (3)

12

MBA1971

Spindle (Heavy roll)
Wheels + Rollers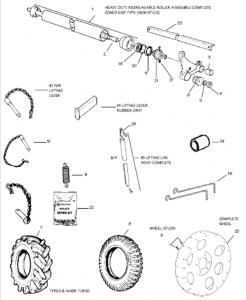 Key No

OEM Part No

Description

1

LMSD614B

Rear Roller Assembly, Superior Quality Completely Repairable as
Illustrated, Weighs 20kgs.

1

–

Budget Roller (not illustrated)

2

MBB9262

Shaft for Rear Roller (above LMSD614B)

3

LTC4742

Split Bush

4

GSF2051AG

Lock Nut

5

GSF2164N

Spring Washer

6

LTC4787

Pivot Bush

7

A817028

Tyre 4.00 x 12

7

–

Inner Tube 4.00 x 12

9

LTC4835

Wheel Stud, Nut & Spring Washer

8

A817027

Tyre 4.00 x 10 (18 x 4)

8

–

Inner Tube 4.00 x 10

10

LMAY333

Locking Pin Complete Rear 4″ Long (LTC3535)

11

LTC0136

Tension Spring (lifting lever)

12

LMAY334

Locking Pin Complete Front 6 1/4″ (LTC 3571)

13

LMAY335

Locking Pin Complete (LTC3634)

14

H990009

Handle Grip (lifting lever)

15

LMSA916

Lifting Link Assembly Complete

16

A203604

Bearing, Roller

17

H012003

Oil Seal

18

A221210

O Ring

19

LTC3756

Coupling Frame Bush (8 Required)

20

A170047

Circlip

21

MBB9264

Roller End Boss

22

–

Roller Repair Kit, Includes Bearings, Seals Etc to repair 1 x
GLM614B Roller As Illustrated

23

LASY249

Steel Wheel – Magna C/W Studs

23

LASY247

Steel Wheel – Sportscutter C/W Studs

24

LTC1199

Tie Rod RH

24

LTC1200

Tie Rod LH

25

LTC4962

Scraper bar

26

LTC3536

Top link

27

GSF254OAC

Grease nipple

–

LTC4930

Disc roll spindle
Speak to our very knowledgeable team today!
100% CUSTOMER SATISFACTION
During a short survey in December 2017, we asked our existing customers for feedback on the level of customer service they received from RT Machinery. We're truly humbled that 100% of respondents said they would recommend us!