Dennis, Lloyds and Ransomes and RTM Gang Mowers at RT Machinery.
Suffolk and Wessex Paddock Sweepers at RT Machinery.
Dennis, GKB, Groundsman and Sisis Turf Care and Maintenance Equipment at RT Machinery.
BCS, Iseki and Kioti All-Terrain Tractors at RT Machinery.
GKB, Groundsman, Ryan and Sisis Aerators and Turf Machinery at RT Machinery.
Danarm, Dennis, D.W. Tomlin, Ego, Etesia, Ferris, Husqvarna, Iseki, Orec, Pellenc, Scag, Shibaura, Ventrac and Wessex Mowers at RT Machinery.
Husqvarna Automower, Scag and Spider Robotic Mowers at RT Machinery.
Eliet and TS Industrie Chippers and Shredders at RT Machinery.
Billy Goat, Echo, Husqvarna, Pellenc
and Smithco at RT Machinery.
CMS Blotter
at RT Machinery.
Here at RT Machinery, we always have a huge variety of fantastic machinery offers and deals available to you.
100% CUSTOMER SATISFACTION
During a short survey in December 2017, we asked our existing customers for feedback on the level of customer service they received from RT Machinery. We're truly humbled that 100% of respondents said they would recommend us!
Mr and Mrs Shimen and their new Iseki TM3267H with Mid-Mount deck.
Mrs Holland and her new RTM Suffolk Sweeper. A very successful handover and installation!
Steve and his team at Stowe Landscape Gardens in Buckinghamshire take delivery of their new Iseki SXG326 with it's Hi-Lift – 54″ – Direct Collect with Shaft Drive Deck.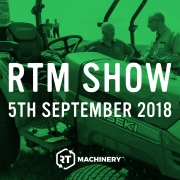 https://rtmachinery.co.uk/wp-content/uploads/2018/07/rt-machinery-open-day-preview.jpg
1368
1690
Andrea Pickerin
https://rtmachinery.co.uk/wp-content/uploads/2017/12/rt-logo-green.svg
Andrea Pickerin
2018-07-02 13:46:37
2018-07-27 09:09:43
RTM Show 5th September 2018