Overview
The all-new Scag Turf Tiger II stands heads and tails above the crowd in power, durability and performance. This industry benchmark has been re-engineered to be as easy on the operator as it is efficient on tough jobs in the field. No matter how challenging the terrain and cutting conditions, the Turf Tiger II makes mowing a snap.
From the heavy-duty, Tri-Plate Velocity Plus™ cutter decks to its extra strength double-tube steel frame to the dual 16cc hydraulic pumps and high-torque wheel motors, this cat is ready for action. The Turf Tiger II features the exclusive Command-Comfort Operator Station with adjustable 4-point iso-mounted suspension seat and Quick-Fit adjustable steering control levers to make your time spent in the driver's seat more comfortable and more productive.
With speeds up to 12 mph, huge-horsepower, fuel-efficient engine options like the fuel injected Kawasaki or Kohler EFI, massive 37hp Big Block EFI models, or Kubota Diesel models, there's a Tiger II that will increase your productivity and send your competition running for cover! A larger capacity fuel tank and a heavy-duty hydraulic oil cooler, the Turf Tiger II is geared up to take the "hard" out of hard work.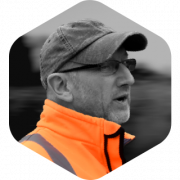 "The Scag Turf Tiger – my all-time favourite Zero Turn mower – and the complete package all in one machine! I have been selling Scag mowers for over 25 years and the Turf Tiger has been the backbone of our business in commercial ride-on mowers.   With its robust and tough construction, choice of petrol or diesel engines and a choice of a flail or rotary head it's just so versatile.  
There are not many machines that can mow in the rough and then be on a lawn collecting leaves or grass with just a simple swap over of attachments. It's the best all-rounder we have and fit for every business or contractor to make a living from once a Turf Tiger user always a Turf Tiger – they are that good. 
Residuals are great too – a second-hand Scag will always sell and they hold their value – so much so I guarantee you I will buy them back in and even fix the price upfront!"