New Partnership with Jensen Wood Chippers
With over 100 years of history and a great reputation for quality, we're delighted to announce our new partnership with Jensen to supply their well-respected wood chippers.
Jensen is the market leader in Germany and has a strong loyal customer base throughout Europe and the UK.
With a product range from 150mm 6″ tractor or towed, to huge 300mm PTO and tracked models, these are serious chippers for farms, estates, parks or contractors and are strong, reliable chippers with incomparable performance.
This family-owned company has a strong history of engineering, taking great pride in manufacturing and still working from their factory in Maasbull, just like Peter Jensen, the founder, did over 130 years ago.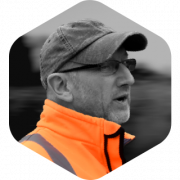 "Jensen's history of development and continued build quality fits our company offering and business principles, whilst extending our range of fit-for-purpose, quality products. The Jensen PTO chipper range will suit our area especially well, as clients are looking to see their investments utilised throughout the seasons and with purpose. The well-priced and effective PTO range will utilise tractors and reduce additional costs for our customers, as well as offering Biomass processing and input sizes. That said, the 530 series engine towed chippers will suit our landscape and tree operation teams, with the tracked and offset units meeting large commercial contractors and hire needs."
Jensen Business Manager Nathan Jacobs and RT Machinery Managing Director Richard Taylor.
First Jensen customer, John O'Gaunt Golf Club, enjoying some training with their new A530XL.
We're also excited to have supplied our first Jensen product, a 6" A530 XL PTO, to John O'Gaunt Golf Club. The PTO model was chosen for the exact reasons Richard mentioned above – to reduce investment costs and take advantage of their existing engine and pulling power. We thank them for the order.
Get in touch if you would like to arrange a demo on 01844 299037.