Versatility When Managing Diverse Turf Areas
Managing the 410-acre estate at Wellington College requires different management techniques because there are so many diverse areas to maintain.
Mark Dodd, Grounds and Gardens Manager for the estate in Crowthorne, Berkshire, along with his team, manage a property with a huge variety of habitats and landscapes, including sports fields, a golf course, formal gardens, lakes, woodlands and heathland areas.
To assist with this complex management puzzle he purchased a package of equipment, starting with the Ventrac 4520 all-terrain compact tractor unit, with attachments that include a 72-inch Finishing deck, a Tough Cut deck and a Stump Grinder.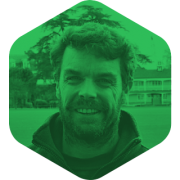 "We initially hired a machine with a Tough Cut deck to work on the banks, clearing scrub on our 9-hole golf course, but quickly appreciated the opportunity that the machine's versatility could provide across the estate.
Unfortunately for our Golf team, the machine is used almost exclusively by the Grounds team, and that's simply down to its versatility. The Finishing deck was initially purchased for use on our formal lawns because it leaves a very pleasing stripe and presentation is very important here at Wellington.
We used to cut our pitches with a ride-on cylinder mower, but the quality of cut from the Finishing deck is excellent and now we use it extensively on our winter pitches. The light footprint of the machine is another factor and we can continue our maintenance regimes, even in inclement weather.
We hosted the Women's Rugby Under-18 Six Nations Festival in April, which included three back-to-back matches over 10 days. It's a quick turnaround and we cut the main pitch with the Ventrac and finished with our Dennis hand mowers.
That low footprint, just 6psi, is also a huge benefit in the Gardens where we're doing a lot of conservation work.
The design of the Ventrac has been well thought through; maintenance is easy and the mounting system allows for a quick and easy exchange of attachments. Add to this the responsive support from our dealer, RT Machinery, and we have a package that we are delighted with."
Mark Dodd heads a team of 16 across three departments: Grounds, Gardens and Golf. He has been in his current role for the past two years, having joined Wellington in 2015. Prior to this he spent seven years at Benenden School and three years at Epsom College as Head of Grounds & Gardens.