It feels like we're all finally coming out of a long winter that included much of 2020! Now it's time to celebrate that fresh feeling of spring, with 20 years under our belt and looking forward to 20 more!
From humble beginnings with a summerhouse office at the bottom of the garden and a small workshop to a very workable farm-based premise, 20 staff and the appointment of a Royal Warrant in 2018.
MD, Richard Taylor had the drive, belief and vision from day one to grow a business with customer service and a range of innovative, reliable products at the core.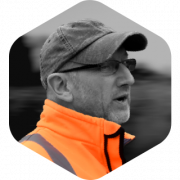 "At the tender age of 19, I learnt that delivering what your customers want and need is really important and that certainly helped me to build RT Machinery."
It's always been about going the extra mile and that's as true today as when we started, not forgetting that the ethos has to run throughout the whole team to ensure we look after every customer.
It's also been important for me to have family involved along the way – three generations with a fourth lining up in the background! Between them and the fantastic "family" team we have in place, we've been able to generate growth with enthusiasm, education and investment for the future.
One more vital ingredient has been the whole idea of sustainability, which has grown beyond our original vision in 2001 of seeking out new technologies and products that work within our environment sympathetically. Today that focus spreads to every area of our business, from the recycling of waste to efficient use of resources and a genuine will to keep improving our contribution to the sustainability of our planet. We still have a long, long way to go!"
There have been a good number of awards over the years and we are over the moon to place our Royal Warrant amongst them. Serving the Royal Household and Her Majesty the Queen since we began in 2001 has always been a privilege and a pleasure.
Whilst we can't celebrate in the traditional way right now, we intend to mark this year in other ways, embarking on new initiatives that celebrate how we got to where we are today, including the development of our operations, training and an environmental focus, amongst other things:
We're looking forward to hosting this day for children here on the farm when they can get close to some of the animals that live here and find out what's important for their wellbeing.
The Turing Trust, started by the family of Alan Turing, refurbishes IT equipment, installs a range of educational software and provides it to those who need it most. This year we will be donating all of our eligible computers, smartphones and more to this fantastic charity. Use and reuse starts at home and in our day to day.
Whilst we are already recycling batteries as they come through our workshop, this year we plan to go further by launching as a Battery Recycling Centre for lithium power tools and equipment. We will be happy to take in batteries from tools that we have supplied, as well as batteries from UTV's, mowers and tractors. All the batteries we receive will be recycled responsibly.
With the goal of improving our energy footprint, we are replacing our heating and lighting with low energy alternatives. We are also surveying how we can implement solar power and water recycling into our business. Vehicles and transport are also under review, with changes in how we manage emissions and energy use, as well as the launch of our vehicles division with municipal electric vehicles and crew vehicles as part of the package.
Of course, we hope that we can enjoy some more traditional celebrations later in the year, especially with our annual RTM Show on 8th September. Until then, we are focused on what we can do, and in particular how we can continue to support those businesses and services that need our help coming out the other side of the pandemic.
The batteries are as energised today as they were 20 years ago and with a shared vision and drive in the team, this is indeed a proud moment and we're looking forward to the next twenty!