New Kit for New Pitches at Towcestrians
With two rugby pitches and a new, dedicated cricket pitch all constructed to add to the existing two rugby pitches, Towcestrians Head Groundsman, Tom Waldock, knew he would need some new machinery to keep everything in shape!
While waiting for a new compact tractor and roller mower, Tom was putting in about 40 hours a week on his new Ransomes TR320 to cut all the sports pitches as well as the outfields, edges and training areas!
Now his new Iseki tractor (with bucket) and topper have arrived he's looking forward to sharing the load in 2021 and getting more remedial work done to improve both the old and the new playing surfaces.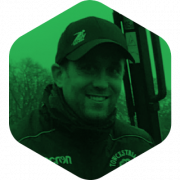 "I was looking for a tractor that would be able to operate a slitter and vertidrain as well as perform other tasks, but not damage the surfaces. I was originally considering a smaller model but went for the bigger 46hp Iseki TLE4490 with the extra carrying capacity in order to get the performance. It will also pull the cutting deck on the backfields."
"I also went for the loader and have already used it more than I thought I would! It's been a godsend for filling holes in the car park and carrying stuff around. Now I'm just purchasing one more bit of kit for the Iseki to pull to help out with the many events we host in between all the sports training and fixtures."
Before coming to Towcestrians, Tom spent several years each at Peterborough United, MK Dons and latterly at the Ricoh Stadium. He's used a lot of different mowers and would have said they were all pretty similar, but says he feels differently about the Ransomes.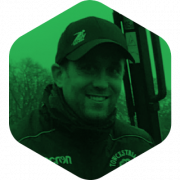 "I wanted a decent cylinder mower for the playing surfaces on the main pitches and surprisingly I've found the Ransomes TR320 to be the best machine I've used. It's really smooth and makes the cut very easy. It's the lightest machine on the market which was important because we have a full clay-based surface and I wanted minimum compaction. The Ransomes is certainly delivering both for me and for the pitches."
"I'm really pleased with the advice and help I've had from RT Machinery in choosing the right equipment. Richard and Andy's knowledge across a large range of brands and machinery, right off the top of their heads, is just unbelievable and has been incredibly helpful as part of the five-year plan I drew up for the development and improvement of the grounds."
"Aside from the Ransomes and the Iseki, I also now have a new Wessex CRX180 fine turf roller mower from them for the edges and rougher areas where the juniors train. In addition they've supplied a used Sisis Multi Slit and a Husqvarna TC138 Lawn tractor and they've been able to offer great value on servicing, which will be critical in keeping everything working well across the seasons."
"Back to work and preparing the grounds for a welcome return to grass roots sports!"