Course Improvements Help Edge Beaconsfield into England's Top 100!
Over 100 years old, Beaconsfield Golf Club is a private members club boasting an 18-hole, parkland and tree-lined course in south Buckinghamshire. At 680 members, the club is in the enviable position of being full and only accepting applications now from lady and junior golfers.
It all began in 1913 when local landowner, Colonel Du Pre, set out to fulfil his dream of establishing a prestigious eighteen hole golf course and clubhouse on his Wilton Estate. He asked famous golf course architect H.S. (Harry) Colt to design it. Colt was referred to as "the best golf architect of all time" and by 1913 he had already designed some twenty courses, including The Eden at St Andrews. He went on to design over three hundred other courses in some sixteen countries including Wentworth, Moor Park and the New Sunningdale course.
Amazingly the club has its own railway station! This came as a result of negotiations between the Colonel and those railway companies building the London to Birmingham railway. The line went through Beaconsfield, cutting right through the Wilton Park estate, so the Colonel orchestrated a covenant whereby they were required to build a "Halt" adjacent to "a Golf House" that he had in mind to build. That Halt (now "Seer Green and Jordans" station) was duly built and opened in 1915, just one year after the "Golf House" and the new course had been opened!
The club has boasted some star members over the years, including world number one Luke Donald. Luke was Club Champion while still a junior member of the Club and went on to win numerous national and international tournaments. He went to the top of the world rankings in May 2011 after winning the BMW PGA Championship at Wentworth. In 2012 he became the first player ever, affiliated to both the US and European tours, to head the money list for the year on both tours.
Course Manager, Stuart Langhorn, relishes the challenge of improving the 222 acres of land in which the course sits, boasting a solid number of traditional English trees including oak, beech, ash and birch. He says that people are allowed to donate trees but he's very strict about maintaining that English heritage!
Originally from Cumbria, Stuart took full advantage of an opportunity to work much further south at the All England Club, Wimbledon, as an intern for 6 months in 1999. He was able to put into practice some of the foundations of ground care and also enjoy the venue, being on court to watch Pete Sampras win.
He then spent six years at Woburn as a full time machine operator, covering seven European tour events before moving on to Burhill Golf & Leisure as Deputy Course Manager for Alwickbury Park in Harpenden. After seven years and a promotion to Course Manager, Stuart was ready for the new challenge of Beaconsfield in 2013.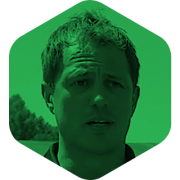 "The situation at Beaconsfield is rather unique with a 4-year waiting list and full membership. I'm not surprised because the course is well laid out, it's traditional and also family oriented. We're always looking at ways to further improve the course and surrounding grounds, embracing new techniques and technology where possible.
One success story on that front has been the purchase of a Ventrac tractor in the last couple of years. I first saw the Ventrac at BTME and was immediately drawn to investigate further because it was so different to any other machine I'd ever used.
We have about six areas on the course that we've always cut with fly mowers and strimmers because they are really sloping, uneven and rough! I wanted to see how the Ventrac would handle those areas and whether it could give us any time saving. In reality we were blown away during the demonstration at how easily and efficiently the machine handled the work.
It would have been an easy decision for me to bring the machine into Beaconsfield on that basis alone but I had to make more of a business case in addition to the huge time saving. That came with the sheer versatility of the Ventrac because of all the other attachments available. It could not only replace several other machines we were using but could be used throughout the winter too for a whole range of groundcare needs from drainage to stump grinding.
It was still a surprise when we had our own machine on site in May 2018 to see exactly what it could do for us. It's taken literally 75% of the work away from those rough areas in one go! The guys who use the machine are genuinely excited about what it can deliver and the guys who don't use it are very happy that it's cut down on the many afternoons they've spent fly mowing in these areas.
The Ventrac has replaced our first-cut mowers as well as our semi-mowers. When we stop cutting the grass, we take the contour deck off and put the tough cut on and get into the woodland. Once we clear it out we need to maintain it and the tough cut deck is ideal. It just goes in and eats everything up!
When the woodland work is done we fit the trencher attachment and it goes straight out draining fairways. 12 months a year work!
On top of that, we have so much more space in our sheds now because we just have the one machine with its attachments rather than a whole load of machines. We've also saved money on buying or hiring in other machines we previously needed for our woodland areas and for drainage.
It's still surprising us too. We keep testing it on steeper or more difficult areas thinking it's going to slip up, but it never does! It's only limited by the confidence of the team – and its official limits of course!
Members have noticed a huge difference because we're now taking areas that were unmaintained – long, deep and rough – and we're taking them down to one-inch grass. There isn't a person in the club who isn't happy!
The Ventrac has moved the whole course from 9 out of 10 to 10 out of 10, and we've moved into the Top 100 Golf Courses in England. This is partly because of what it can do and partly because the guys have more time to focus on keeping the rest of the course better maintained. They are cutting greens, tees, dry cut tees, fairways and approaches more and also being able to do more attention-to-detail work.
Rupert Price at Price Turfcare was really helpful when we were considering the machine and we've been delighted with the service we've had from the dealer, RT Machinery. Tom Bailey and the team there were fantastic through the demo and purchase and then the backup has been superb. Whenever we've needed parts or information it's always been with us that day or the day after.
We had an issue with the machine coming into the Bank Holiday weekend last August and they even delivered on that, picking it up on Friday and returning it on the Tuesday, all fixed. It's great dealing with a company that are not trying to sell all the time.
Having said that, we are already planning which attachments we want to get next for the Ventrac – certainly the blower and large brush, which will add to the versatility we have. We know that other owners have used their brush for de-mossing car parks, clearing pine cones, shifting snow and more.
The whole machine just absolutely blows everything away in its market. There's nothing else like it!"
For further details about the Ventrac 4500 at RT Machinery, simply visit our dedicated Ventrac page and explore our entire Ventrac product range.