DJUKE, the specialist sports turf contractor managed by Cameron McMillan, now has a couple of Ventrac 4500 compact tractors, together with a range of implements that have bolstered the company's service portfolio to golf courses and other turf-related businesses.
Cameron McMillan, who was at Queenwood Golf Course for 15 years through the initial construction phase, grow-in and the opening in 2001 until 2015, is one of the McMillian dynasty that has managed many prestigious golf courses in the south of England.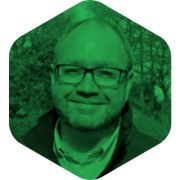 "We purchased the first Ventrac to broaden our service offering to our growing client base," he said. "Since establishing the company in 2015, we have become known as aeration and drainage specialists through our Graden and PC Drainage services, which have enhanced our range to help customers maintain everything within the boundary of their property.
"Our initial purchase included Ventrac's ToughCut deck, the Power Rake and a Power Brush. Woodland management is a time-intensive task for any on-site green keeping team but the  ToughCut deck is excellent for managing these areas; it can cut through bracken, brambles and young saplings with ease and leaves a very acceptable finish."
"The Power Rake is very impressive. We had a demonstration from RT Machinery on a foul day and it renovated the surfaces of machinery pathways and golf car paths with ease. The Power Brush is typical of Ventrac's attachments, easy to connect to the tractor and highly efficient in use. I can't believe how compact, powerful and manoeuvrable the Ventrac is, whichever attachment is connected. The whole machine is so easy to operate, the steering is light, precise and allows the operator to be inch-perfect.
"Without doubt these additions to our fleet have enabled us to improve the non-playing surfaces for our clients and provide business opportunities that were not previously open to us. I'm delighted with the machinery package and the superb service provided by Tom Bailey and his team at RT Machinery, as well as Rupert Price and his team at Price Turfcare."
For further details about the Ventrac 4500 at RT Machinery, simply visit our dedicated Ventrac page and explore our entire Ventrac product range.