Perfect Pitch Combo
Iseki TM3267, Sisis Quadraplay and Wessex Roller Mower
Overview
This is the perfect package for complete sports pitch maintenance, improving the surfaces for the players whilst making life much easier for groundsmen at the same time. As simple as 1, 2 3.
1. The Iseki TM3267 Lightweight Compact Tractor is powered by a 25hp diesel engine and represents one of the best value tractors on the market. It's a workhorse that loves pulling your turf maintenance tools across the pitches.
2. The Sisis Quadraplay multi-purpose maintenance tool carries up to four implements such as grooming rakes, spikers, slitters, rollers and brushes. You can brush, roll, slit, and rake all in one pass, making life much easier for groundsmen. And it works on both turf and hard porous surfaces.
3. The Wessex CRX180 Finishing Mower has an extremely high blade tip speed which is one of the secrets of the superb, professional cut quality. You also have great manoeuvrability in awkward areas thanks to the castor wheels. And of course, a rear roller will leave that prestigious striped effect on your turf.
Funding
This package is extremely popular with sports clubs and there is often funding available. We are the perfect partner for assisting with your funding bid.
Iseki TM3267 Lightweight Compact Tractor
Sisis Quadraplay
Wessex CRX180 Combination Rotary Roller Mower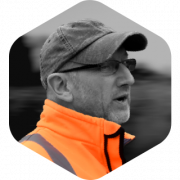 "It's not often we group our products together as a triple "Why We Love It", but these three go together like a Cream Tea – Fresh Scone, Jam and Clotted Cream – they are just made for each other!
The Iseki TM3267H has everything a proper tractor should have, in good power, great lift capacity at over 760kg and the feel of a real tractor built to work hard with presence and strength that belies its price. The 3 cylinder Iseki 25hp engine has oodles of torque and will manage these two implements admirably whilst meeting the latest engine emission regulations and fuel economy expectations.
The Quadraplay is the best all-in-one turf maintenance system for sports fields, bar none. The Wessex CRX180 gives a superb finish and is easy to maintain and service – all with a defined stripe up and neat finish.
I can safely say this is my favourite tractor package and guarantee you that we will always part exchange or buy them back in at any time as we just can't get enough of them!"